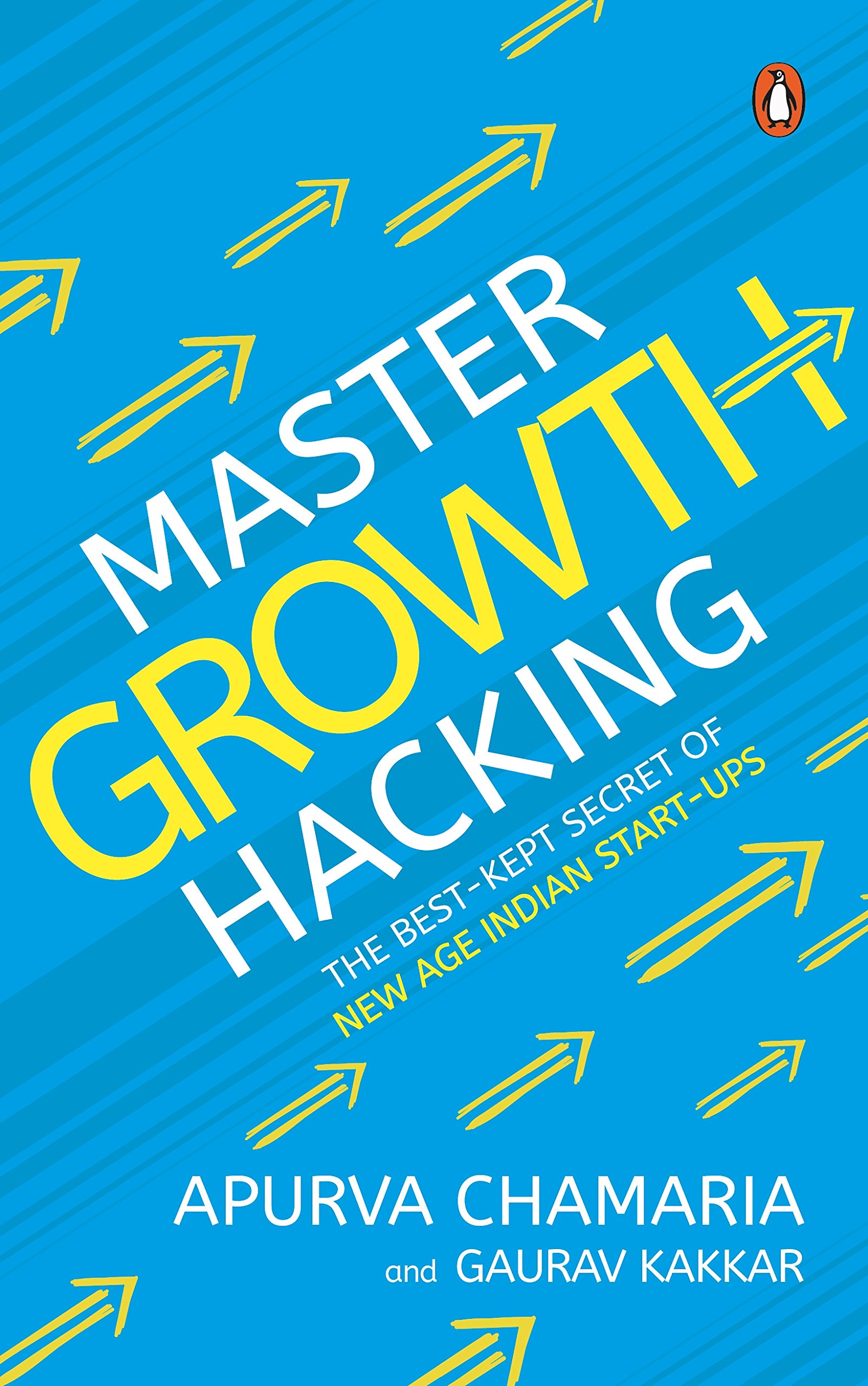 Master Growth hacking - Compilation of growth hacks for Marketers to exponentially acquire , activate , enable & retain the customers
View Website

 
Order Now

 
Growth Hacking is not an elemental discipline – it is a compound of many practices, optimized and synergized to build a comprehensive strategy for rapid growth. Digital plays a key role in it but it goes much beyond open rates and click throughs, as we would see in subsequent chapters. Similarly, the concept of virality- the ability to spread and inspire action is well entrenched as is the mission of customer interaction and feedback. It holds tremendous potential for any business.
"Master growth Hacking" is the book written by Apurva Chamaria, Head of Corporate Marketing at HCL Technologies and Gaurav Kakkar, Head of Digital Marketing at HCL Technologies. The book the various Tools and techniques related to growth hacking. The book answers why's, how's, do's and don'ts of Growth Hacking. The book contains real-world examples and relevant information which compels you to understand and acknowledge the importance of Growth Hacking.
Apurva and Gaurav present the history of growth hacking process and how various global organizations have leveraged growth hacking during early days. Marketers leverage various platforms like SEM, SEO, email marketing, social media channels but what can be done differently to acquire the users exponentially with minimal spend on these channels. This has been covered in detail in the chapter "The Growth Hacking Process and Tactics: Exponential Acquisition of Users through SEM, SEO, Email Marketing, Social media and Content marketing".
Every customer is unique, and they follow different journey while purchasing the product or service, therefore the growth hacking funnel should very well define all the progression paths and enable the customers throughout their purchase cycle. Growth hacking funnel differs from the traditional marketing funnels. Find out more details in The Growth Hacking Funnel chapter.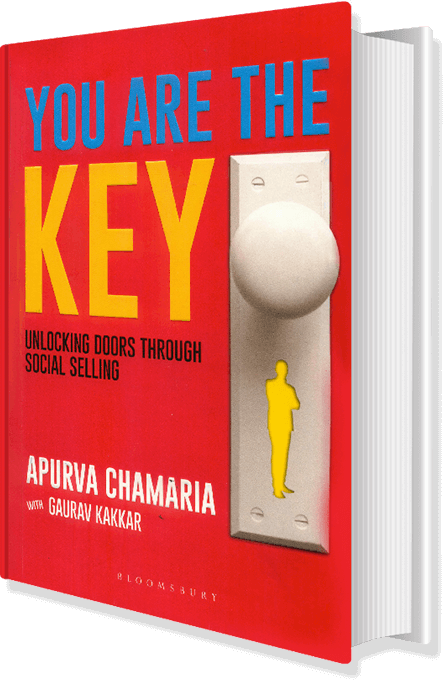 You are the Key – Unlocking doors through Social Selling
View Website

 
Order Now

 
Welcome to the age of Social Selling, a trend that is part of a new generation of sales strategy. Whether it is a sales person struggling to meet his quota, a love stuck lover trying to get introduced to his beloved, a young MBA looking for a job, an entrepreneur looking for funding, marketers trying to enable sales to generate leads on their own – everybody can benefit from understanding and learning the principles detailed in this book. With internet penetration and social media and mobile usage going through the roof, this book is a must read guide which will help you open doors and create opportunities which you never knew existed. Welcome to the world of social selling! But what is Social Selling and how can new-age social and digital marketers leverage it to create value for their customers? What are the steps to social selling success?
The first ever Indian book on the social selling revolution "You are the key – Unlocking doors through Social Selling" by industry though-leaders Apurva Chamaria, Head of Global Brand & Digital Marketing at HCL Technologies and Gaurav Kakkar, Digital Marketing Head at HCL Technologies, throws light on the future of new business, which is social selling. The title offers a promise of winning at social selling. With aggressive and persuasive arguments, the authors in this book have presented aspects of social selling from all the angles, and answer the why's, how's, do's and don'ts in a pragmatic manner which helps the book become a ready reckoner for wannabe social selling practitioners . Replete with real world examples and nuggets of wisdom, the conclusions drawn from this book are compelling enough to convert even the most skeptical ones to believers in the power of social selling.
The first chapter opens the window to the evolution of sales methodology over the years. Interestingly, the chapter illustrates the power of social selling which has transformed the sales methodologies to make it more suited to the internet economy. It highlights comprehensive research and social selling case studies of two big technology companies – HCL Technologies and IBM – and how they have harnessed the power and energy of social selling incredibly. Whilst capturing the essence of social selling, the second chapter discusses the six steps of social selling process and talks about understanding the social media platforms and creating your persona, building credibility through content, identifying prospects and their needs, approaching and engaging them. It reflects on how social network has widened the arena for businesses by allowing them to reach out to consumers directly. Chapter 3 introduces the readers to the first step of social selling, which is to create a compelling and credible persona on social networks. The chapter rightly relates building a social persona as a natural extension of emotions. It explains about building a personal brand on Facebook, Twitter, LinkedIn and Google Plus, and finding the right audience with a strategy to fully utilize these platforms for sales.
The authors then talk about an often overlooked but very valuable aspect of social selling: Content. The chapter offers comprehensive overview of content creation, curation and publishing. The authors urge readers to delve into the most critical aspect of content, which is to create a strategy. Apart from mapping a strategy, the authors draw close attention of readers to the 7 C's of content curation, tips to perfect content curation for social selling and a quick essence of the content to post on various social media platforms.
Offering a practical approach, chapter 5 is dedicated to help readers gain insights into social selling at a deeper level. This chapter establishes the difference between a lead and a prospect, listing and prioritizing prospect's understanding and their persona, and finding the prospects on various social media channels. Riddled with informative research and pictorial examples, the book presents readers with a detailed methodology on analysing the prospect's digital and social presence to understand the needs of prospects through Social Selling. The later part of the book aggressively brings to focus various social media tools that can be deployed to learn about the prospect even before approaching them, simply to understand what might interest or excite them.
A particularly intriguing part of the book is that it introduces readers to a first-of-its-kind Social Selling Enterprise Framework that lays the foundation for launching an enterprise social selling program within an organization.
"You are the key – Unlocking doors through Social Selling" is a straight forward book, where the authors directly strike a chord with the readers. It's an informative and highly engaging work that will help one master the art of social selling. The book also highlights some of the best social media tools for social selling. The energy and passion of the writers is fully evident all along the chapters, from understanding the importance of social selling to approaching and engaging the prospects. Whether you are a pro at social selling or just a beginner trying to make a mark or a leader who wants to incubate the social selling program in your enterprise, the book has revolutionary ideas and is loaded with inspiration. It contains step by step guide to master social selling and is one of the most practical book to leverage social media for social selling.
Social Selling Success will be a smart marketer's bible in the new age of selling. Have you bought the book yet?