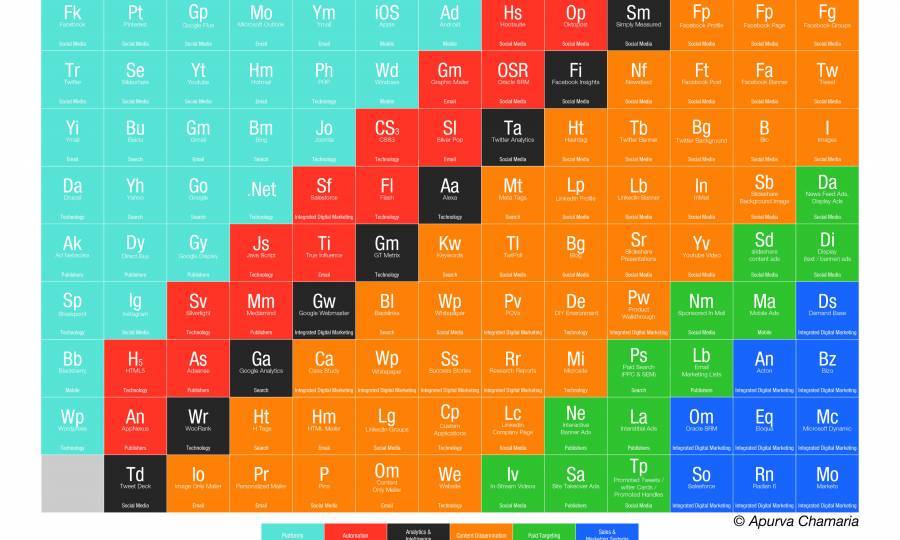 In the fourth part of the series on the Periodic Table of Digital Marketing, we looked at the various modes of Content Dissemination, because Content really drives marketing! Every marketer is also aware of the importance of taking the content to the real audience. The audience in many cases may not be using the same the platforms as you do. In cases such as these, it becomes important to take the message to them.
In the concluding part of the Periodic Table, we look at the channels of Paid Targeting, the tools that ensure your messages are reaching the right people. In this piece, we also look at Analytics and Intelligence gathering tools that are weaponry for any marketer.
Paid Targeting
Newsfeed Ads
Ads are no longer obscure attention seeking visuals at the margins of content. Advertising today has made bold inroads grabbing attention. On Facebook, newsfeed ads are those that are on the homepage between the newsfeed. These ads include status updates, photos, videos, links, app activity and likes from people, pages, and groups that you follow on Facebook. Facebook also allows ads on the right-side margins, but it is these newsfeed ads that are more productive. Need some ideas on newsfeed ads, here is how!
Why Newsfeed Ads Are Import
Facebook newsfeed ads have a click through rate 44X higher and a conversion rate 5X higher than right side ads

Newsfeed ads achieve these results are a 67 percent lower per conversion than right-side ads
Display Ads
Display advertising is a type of online advertising that comes in several forms including banner ads and others. Unlike text-based ads, display advertising relies on elements such as images, audio, and video to communicate an advertising message. Display advertising in every essence is complex, owing to people's online behavior. As a marketer, it is critical to understand where your consumer is lurking and how to get to them.  
Why Display Ads Are Important
Is highly targeted and can be used very effectively, for example, display ads on LinkedIn can be targeted to reach out to people based on geographies, sector, group, gender and even job profile

Display ads have a CTR of anywhere between 0.02% up to 3% - 4%
Mobile Ads
With a surge of smartphone users, mobile is the most used device by consumers. Quite naturally, marketers are diverting their time, money and energy towards mobile advertising. The effectiveness of mobile media ad campaign can be measured by Cost Per Impression, Click Per Click (CPC) or Cost Per Install (CPI).
Why Mobile Ads Are Important
Mobile being an interactive mass media opens up the possibility of making a campaign viral
Paid Search (PPC & SEM)
Paid Search today constitutes elements of SEM and PPC. Social Engine Marketing or SEM is the process of gaining website traffic by purchasing ads on search engines. Pay Per Click of PPC are ads that are served to mobile search users and are charged by the number of clicks that resulted in a direct call from a smartphone.
Why Paid Search Is Important
Paid Search is a critical aspect of inbound marketing

Brings immediate traffic

Paid search is a cost-effective exercise in branding
Email Marketing Lists
Email marketing ensures that your brand is reaching its clientele in their inbox but there are also chances that your client is no longer using the email that has subscribed to your list. Which is why it is important to keep building your email list and there are many ways to build that email marketing list.
Why Email Marketing Lists Are Important
An effective way to keep customers informed

Easy to customize and integrate

It's inexpensive
Promoted Tweets / Twitter Cards / Promoted Handles
Promoted Tweets are ordinary tweets bought by advertisers who want to reach a wider group of users. Promoted Tweets are marked as promoted, just like promoted handles are. Twitter Cards let you take your content beyond basic text, allowing you to create media-rich experience for visitors who Tweet your content. Here is a definitive guide to using Twitter Cards.
Why Promoted Content on Twitter Is Important
Promoted Tweets work when your goal is to drive a particular action via Twitter

Promote Sales and giveaways

Promote awareness around events and product launches
Analytics & Intelligence
Simply Measured
Simply Measured are a social media analytics and measurement for data-driven agencies and brands. As an analytics tool, Simply Measured covers measurement, listening and active monitoring and provides detailed reports based on influencers and trends, keywords and hashtags and web traffic, amongst other things. Simply Measured supports multiple profiles and supports platforms like Twitter, Facebook, YouTube, Instagram, Google +, Tumblr, Vine, Pinterest and LinkedIn. For an exhaustive profile on Simply Measured and to understand how it works with various platforms, look up this review.
Why Simply Measured Is Important
Simply Measured is one of the few certified products that have access to Twitter's Firehouse that which is Twitter's continuous stream of Tweets from the very beginning!

Simply Measured lets you be a proactive social listener!
Facebook Insights
Facebook Insights are insights that Facebook provides to page owners to see how their strategy is working. The metrics are clean and are based on the Number of people engaged that includes people who have liked, commented, shared or clicked on the post.
Why Facebook Insights Is Important
Facebook Insights clearly separates the data and tells you the post reach based on organic and paid. This shows you whether you are paying in the right place

Facebook Insights also slices the data based on demographics and engagement, telling you exactly the kind of posts that have been liked by your followers

Facebook Insights also helps in competition analysis
Twitter Analytics
Twitter Analytics is Twitter's version to make engagement and learn how to make Tweets more effective and successful. Twitter Analytics allow you to explore the interests, locations, and demographics of followers and track how Twitter Cards drive clicks, app installs and Retweets. Only accounts with Advertiser status can access Twitter Analytics Data.
Why Is Twitter Analytics Important?
The Tweet Dashboard is the best place to find detailed information on how Tweets are performing. With a view on the month's best tweets and interaction, you also get dates on which your account fared well

There is a Followers Dashboard that tracks your followers based on their gender and location and the kind of content that they prefer

Can also manage the Twitter Cards Dashboard
Google Analytics
The most widely used tool to measure website statistics, Google Analytics is a Google product that measures sources of website traffic, their conversion and sales.
Why Google Analytics Is Important
If you are targeting a specific audience, it is important to understand where your audience is coming from

It is also important to know how your audience found you! Knowing which of your marketing efforts are paying off is critical to business health

Google Analytics also tells you which web browsers your audience uses

Most significantly it tells you which keywords were used by visitors on search engines
TweetDeck
TweetDeck is a web tool that helps you manage and post to your Twitter profiles. TweetDeck has a dashboard that organizes and displays separate columns. So from separate columns for separate accounts, mentions favourites and hashtags, you can also assign separate columns for a few people / accounts you follow.
Why TweetDeck Is Important
You can have unlimited columns to monitor accounts and users

Once you insert a link on TweetDeck it automatically shortens the link

Allows you to post in multiple accounts

Allows you to schedule posts
That brings us to the end of the 4-part series on the Periodic Table of Digital Marketing. Remember, anything to do with digital means that it is an ever-evolving and overwhelming platform where there will be new players, new platforms and products. This Periodic Table will naturally evolve and we will keep a close watch on it!