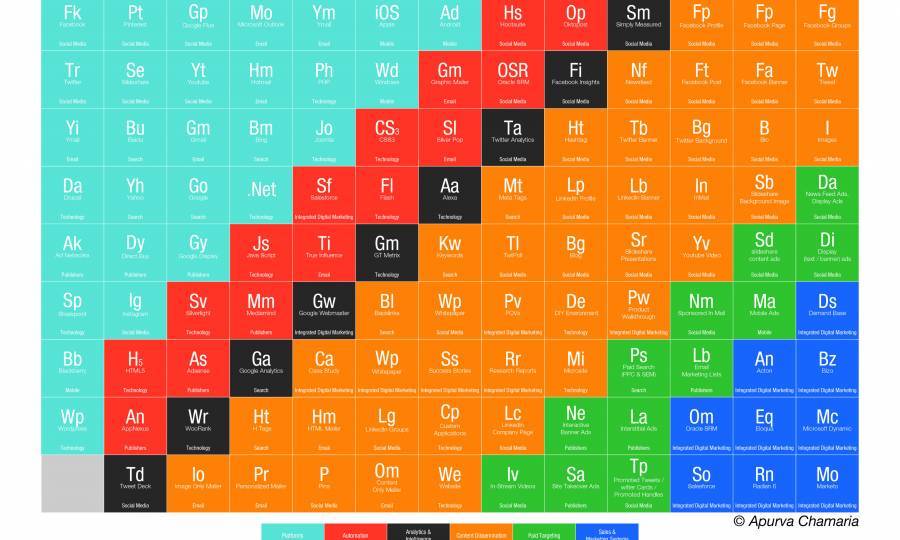 CONTENT DISSEMINATION
Content is king, but we all know that already. Look at it from a digital marketer's desk and I can tell you that Content Dissemination is really the driving factor. In the conundrum of social media and the varied platforms present in the digital world, much of what we say and show depends on the vehicles that we choose. For any content to reach its right audience, it is important to first select the correct formats by which your remarkable message will reach out to the audience it is meant for.
In this piece, we will look at the Periodic Table again highlighting the exhaustive list of elements that define Content Dissemination.
Facebook Page is the timeline for a business, organization or brand. It acts as the Facebook identity of a brand that is used to attract customers and have them 'Like' it. The Facebook Page becomes a platform to promote the company, run promotions and share updates, offers, photos, and content. Look at Facebook as a network of connected and social people, all ready and willing to engage with a business. Most significantly, Facebook is now also an efficient network where one can target people not only by keyword (like Google) but also by age, gender, location, personal likes, and dislikes.
Why Facebook Page Is Important
Major search engines index Facebook Pages and so that gets businesses more attention from search engines. Much like a blog with frequent updates, a Facebook Page with regular updates is indexed and earns increased search engine traffic

Tap into social network power as Page updates show up on your follower's timelines and they share your updates and endorse it

Engaging with your audience was never easier

Facebook lets you measure your engagement with Facebook Insights and also lets you track fan promotions
Facebook Groups are like discussion forums that can either be public or private. It helps in sending messages to all members, generate discussions and conversations about topics you care about, ask relevant questions and invite new members to the conversation.
Why Facebook Groups Are Important
With many groups being decisively being used as platforms to market, Facebook Groups is now a key platform for engagement. However, it is easy to get lost in the mesh of over promotion

Groups, however, are a great platform to have a close connect to people who are interested in having a conversation
A tweet is a power packed 140 character length update that makes the micro-blogging site Twitter a force to reckon with. Today Twitter is as good as the official spokesperson of a company, therefore retiring the need of greenhorns from being at the helm. A Tweet is considered an official statement on behalf of the company, a personal mode of communication, a medium to praise and criticize in the same breath. For brands, it is a powerful tool to communicate and converse with customers.
Why A Tweet Is Important
Twitter is often used to share news and stories

It generates conversations and empowers the followers

It is also a great platform for customer service
A hashtag is the one way to track what people are talking about. In between all the content in social media, a smart use of hashtags denoted by # followed by the subject or keyword is a way to generate viral conversations.
Why Hashtag is Important
Hashtags ever since their inception have grown to complement marketing activities across several brands

Hashtags started on Twitter, but now have grown to be used on Facebook, Instagram and Google Plus making it a unique signifier to see what is 'trending'

Not everything can become a Hashtag, though! Understanding which hashtags to pick among the trending topics and which ones to create is part of the skill
LinkedIn Profile on LinkedIn, the world's most prominent professional networking site is an evolved platform that is often the first place of the lookout to search people who are associated with a company. As the Founder, CEO or prominent personnel in a leadership position, the LinkedIn profile acts as an evolved public resume.
Why LinkedIn Profile Is Important
A brand is always best exhibited by its people. An updated LinkedIn Profile of the people associated with an organization shows that you are a man of business

Often people want to know the person leading a company and so, therefore, an updated LinkedIn Profile is the best place to share one's credentials
LinkedIn Banner is the space that attracts a lot of eyeballs. Some businesses, this space is usually used to showcase a jumbo-sized logo, but then the LinkedIn Company Page already has space for a logo! Use it to make announcements, display event and product information, your contact details, your company tagline. If you are at a loss of out of ideas, this will help.
Why LinkedIn Banner Is Important
The banner is positioned for a dramatic impression on a visitor who lands up on a company page keeping it blank or using it ineffectively should not be an option

There are various content options to choose from, the banner can be changed periodically to include different types of content
InMail is the private email service as part of LinkedIn's premium services. LinkedIn calls it the 'most credible way to message anyone on LinkedIn'. The site being a referential, acquaintance based networking site, InMail in sense lets you break through the barrier of unfamiliarity and reach out to anyone on the site. InMail can work for professionals and there are etiquettes and smart techniques to master it!
Why InMail Is Important
InMail lets the user send business and career opportunities to any LinkedIn user

It's a more professional approach to the prospective client/partner
Why A Blog Is Important
A blog is an owned media platform, putting the onus of content creation on the brand

It is an incredibly useful platform to use, especially if it is used to share original content that can be further shared on social media platforms and email

A blog shared on social media becomes a lead generator, a conversation starter, a community builder. It depends on how you use it!
YouTube Video or having a YouTube channel that is constantly being updated with fresh and relevant content is a perfect way to engage with an audience. Quite like a blog, a YouTube video and channel empowers you to engage with your audience and followers through innovative content formats. This infographic on YouTube Marketing will give you all the juice!
Why YouTube Video Is Important
YouTube is the second largest search engine

Videos are 53 times more likely to generate a first-page ranking
Case Study or laying bare a success story is a great way to share one's achievements. Creating a case study is a remarkable marketing exercise and can be created using this skeleton.  
Why Case Study Is Important
A case study differentiates between what a brand owner delivers than what it offers

A case study is aspirational, an invitation to behind the scenes or workings of a company
In the final segment of this series, we look at Paid Targeting and Analytics and Intelligence grids of the Periodic Table of Digital Marketing.