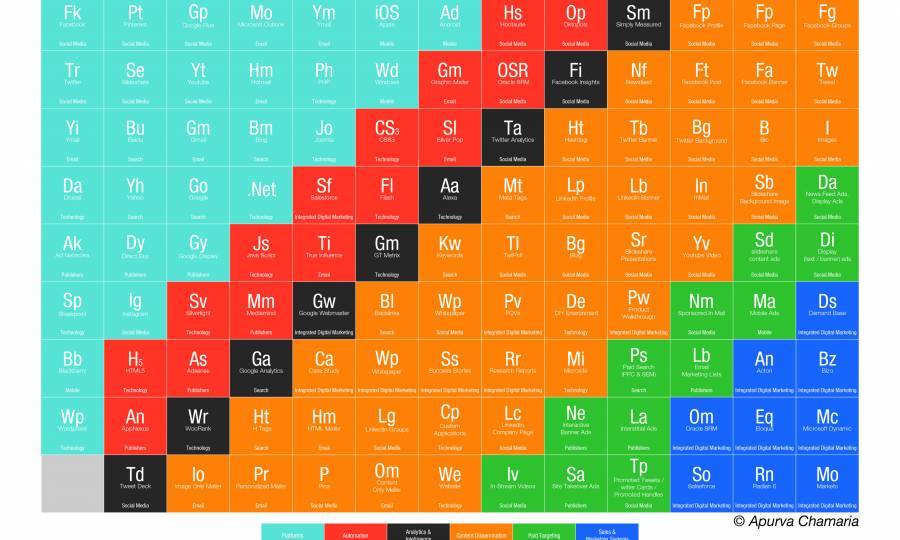 This week, we relook at the periodic table looking at Automation Tools that work like the levers and elevators for Digital Marketers. We also take a look at Sales & Marketing Systems that exist making the twin processes seamless and efficient.
Automation Tools
Automation gives us the ability to make technology work smartly for us. Therefore automation tools that let us schedule give insights on sales pipelines and customer insights, online display advertising, bring in swiftness and latent streams of leads and revenue for the brand.
HootSuite is a social media management system for brand management. Imagine having to keep a tab on your Twitter handle, Facebook page, LinkedIn page and Google + profile! Imagine engaging with the multiple communities that you have built across platforms. Imagine spending a whole day jumping from one site to another! Social media management is a time-consuming affair, but who says technology cannot make it a breeze? Created in 2008, the user interface looks like a dashboard that supports social network integration of sites like Twitter, Facebook, LinkedIn, Google+, MySpace, WordPress, Foursquare, Mixi, and Trendspottr. With a common dashboard that connects all social media channels, on HootSuite, it is as simple as a push of a button to get your message across all platforms.  
Why HootSuite Is Important
Easily customized – You have control over who sees which parts of your content. You can schedule posts very effectively

Monitoring of your content was never easier!

HootSuite is available across platforms, through Internet, BlackBerry, iPad and apps

HootSuite comes with a free version and a paid version allowing you to choose that which suits your business
Oracle SRM is a product that has amalgamated the best-in-class Social Relationship Management components in one nifty tool. SRM is the bedrock of all social media initiatives making digital marketing a well-rounded exercise for any organization. Oracle SRM, as a cloud-based service includes the critical components of social listening, social engagement, social publishing, social content & apps and social analytics.
Why Oracle SRM Is Important
Oracle SRM integrates existing Oracle products with Vitrue, Collective Intellect, and Involver platforms. This integration allows users to perform social marketing, engagement and monitoring tasks besides analyze data, which they further use to develop meaningful content

Oracle SRM allows multiple users and teams make better use of the tool such that now one user creates a post and it automatically allows another to approve it

Oracle SRM also offers out-of-the-box integration with Oracle applications including Oracle Eloqua, Oracle RightNow Cloud Service, Oracle Fusion CRM and Oracle CRM

Oracle SRM expands support to 29 languages
True Influence calls itself the world's most accurate and the fastest-growing online lead generation company. True Influence allows B2B decision makers and sales and marketing professionals to generate the right leads at the right time in the right volume. Leveraging data, technology, and content to drive high-impact marketing campaigns, True Influence shares detailed data insights to win new businesses.
JavaScript is a programming language that makes web pages interactive. It runs on the visitor's computer and therefore does not require constant downloads from your website. A website designed using Java, however, makes for an attractive destination for a potential visitor. Javascript is executed is executed on the user's processor instead of the web server thus saving bandwidth and strain on the web server. The Javascript language is relatively easy to learn and comprises of syntax that is close to English
AdSense is a Google product that allows publishers in the Google Network of content sites to serve automatic advertisements that are targeted to site content and audience. The program is designed for website publishers who want to display targeted text, video or image advertisements on website pages and earn money when site visitors view or click the ads. The ads are monitored by Google generating revenue either per-click basis or per-impression basis. AdSense supports several types and formats, ensuring there is a range for marketers to use. Ranging from AdSense for Content, Feeds, Search, Mobile Content, Domains and Video one can literally choose where he wants his ad to run and how
Sales & Marketing Systems
These are tools and resources that augment the digital marketing practices by converting into qualified sales and marketing opportunities. Tools like Salesforce and Oracle SRM bring in the functionalities of customer relationship management and social relationship management to play. Similarly, Bizo is a marketing platform that enables B2B marketers to identify, reach and engage their target audiences online.
Digital Marketing is never an isolated function. Effective and efficient practices ensure that sales and marketing endeavors combine to give unified results that help a brand do better business.
Demandbase is a leading B2B company specializing in targeting and personalization. With the buzzword being 'big data insights for sales people', Demandbase delivers a B2B marketing product that targets web personalization and enables marketers to connect campaigns directly to revenue. Demandbase, therefore, enables its customers to deliver personalized advertisements targeting specific businesses.
Why Demandbase Is Important
Targeting and having relevant conversations with buyers

Allows to reach out to specific accounts with relevant messages

Allows personalization of the web experience

Allows segmentation, analysis and prioritizing companies

Allows you to open dialogues with target accounts
Bizo is not yet another company that offers technology and products to B2B marketers to target prospects within professional segments and nurtures them at every stage of the sales and marketing funnel. Armed with data management and targeting technology, the platform enables precise and measurable multi-channel marketing programs. Bizo was acquired by LinkedIn on July 22, 2014. LinkedIn plans to incorporate Bizo's Media Solutions and Multi-Channel Nurturing products into their portfolio but doesn't plan to carry over their Data Solutions business.  Bizo will honor their existing contracts, but LinkedIn data won't be made available to their grandfathered customers.
Why Bizo Is Important
B2B solutions with content marketing products, now who wouldn't want that!

Let's you target new audiences via business demographic-targeted display, social and video advertising

Allows you to nurture existing audiences through CRM retargeting and website retargeting

Allows users to measure the impact by accessing social advertising strategies through Full-Funnel Analytics  
Salesforce began as a traditional developer of customer relationship management tools and has now expanded with acquisitions into social networking applications. It has products like Sales Cloud, Service Cloud, Marketing Cloud, Force.com, Chatter, and Work.com. Marketing Cloud, for instance, comes with a host of marketing related functions that give off the digital marketer an Integrating Digital Marketing platform.
Why Salesforce Is Important
Marketing Cloud comes with functions like Journey Builder, Email Marketing, Social Media Marketing, Web Personalisation, Ads, Predictive Intelligence, Content and Messaging and Customer Data Platform
In the next part of the series, we will look at Content Dissemination closely and go over the elements that go into the Periodic Table of Digital Marketing.