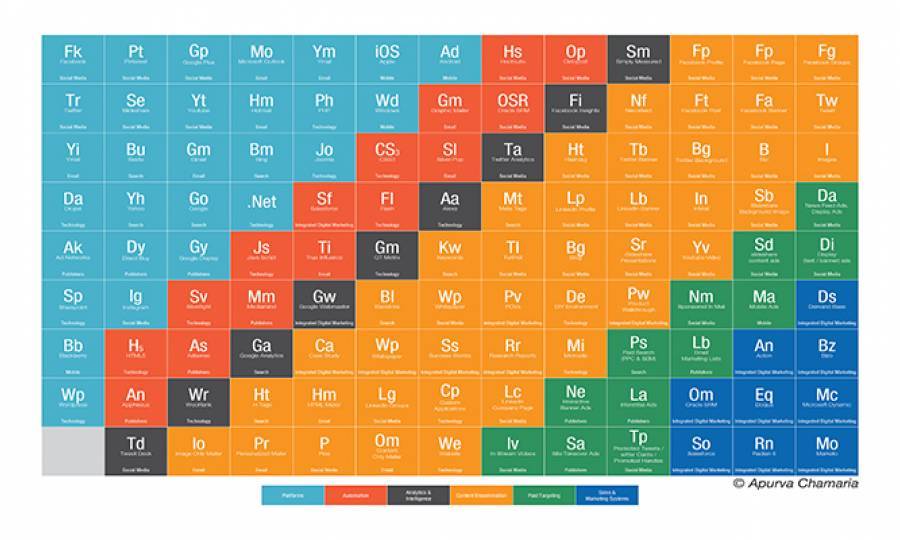 Anyone who has tasted a pinch of Chemistry in school would remember a complex chart called 'The Periodic Table of Elements'. Elementary as it was, the instruction and mastery of chemical elements along with their corresponding elements was critical for every science student. A quick search on google for "periodic table" showed me about 2,46,00,000 results which shows a huge appetite for periodic tables which that explain a widely dispersed and popular phenomena. Closing in on the subject at hand, the periodic table has also been formatted for to suit Social Media Tools and Content Marketing. However, for anyone who deals with all things digital, none of these periodic tables are comprehensive enough. We in the digital space have to deal with complex tools and platforms, analytics and intelligence, vehicles of message delivery while marrying the functions of sales and marketing with customer relationship management. No matter where I looked, all I saw were tables incomplete and incomprehensive!
So I created one of my own!
The columns of my periodic table are divided into 6 prominent groups. Each group is further divided into what can be described as a sub-group of elements that aid digital marketing. The period table is a grid designed on cross-referential information architecture.
Digital Marketing is an exhaustive subject and therefore as I explain the chips and tabs of the periodic table, I will break it up as a 4-part series to go over each group and its elements.  
Platforms
Social Media – Everything social is digital, but everything digital is not social! For brands and organisations, this has of course resulted in a boon of opportunities, allowing brands and faceless companies to build a persona, build a community and open a line of communication that is more personal and effective. Companies are selling, buying, hiring, extending after sales support and even building their R&D functions based on observations on social media! Here is why:
Builds increased brand recognition

Improved brand royalty

More opportunities to convert

Increased inbound traffic

Decreased marketing cost

Better search engine rankings
Facebook that started as a social networking site has grown to find tremendous utility in the business world. The site which is available in 37 different languages, using Facebook for marketing has its own winning points.
Why Facebook?
There are over 1.35 BN monthly active Facebook users across the world. This number is rising exponentially every year at 14%

4.5 BN 'Likes' are generated daily

Every second 5 new profiles are being created
Twitter –With 140 characters holding up the ace of 'tweets', Twitter is the SMS of the internet! The average ECPE for Twitter is USD 0.45
Why Twitter?
There are 284 MN users worldwide

Thought leaders, experts in niche, market leaders and influencers use Twitter for business
Search – A search is a technology that combines a set of programs that includes a crawler which goes to every page and website to represent it on search engines. It's like the Census officer coming to your house for a headcount making sure you are counted!
Google by virtue of being a large internet conglomerate specializes in products and services that include online advertising technologies, search, cloud computing and software. Google, to the digital marketer is the gateway to a world of multiple opportunities.
Why Google?
Google controls 67.6 % of the US search engine market

With Android enabled devices leading the smartphone race by dominating 80% of the market and 1.6 BN units around the globe, Google is the preferred platform of search for all mobile users

Gmail has more than 500 MN users with 1MN Android installations across the globe
Email – Email for long has ceased to be a simple carrier of mail and communication. The use of the email for marketing purposes has transported the business of communication to a whole new level where the focus is on getting every email opened and read. Email marketing allows companies to send out targeted communications to their audience.
Gmail – If there is only email address to be had then it has to be Gmail! With Android being the leading choice of operating system for mobile users, Gmail is the preferred choice of email.
Why Gmail is Important?
Numbers speak for itself. Gmail has 425 MN users!

67.5% of Gmail users access their emails on their phones making it a perfect vehicle for email marketing

The average user of the Gmail user is 31
Technology – No matter what is the platform, or the functionality or versatility of the application, technology is what drives business. Technology is the application of design, production and utilization of resources that gives the user / consumer a superior experience.
Joomla is an award winning, free and open source content management system (CMS) for publishing web content. It is built on a model-view-controller web application framework that can be used independently of the CMS.
Wordpress is an online, open source website creation tool written in PHP. It is one of the most important blogging and website content management systems in the world.
Drupal is free, open source software that can be used by individuals or groups of users to easily create and manage many types of websites. It includes content management platform and a development framework.
Mobile
Devices are shrinking, as people want to make information accessible and on-the-go just like them. Mobile therefore is now becoming the preferred medium of content consumption on the internet. According to Prof Andreas Kaplan mobile marketing is any marketing activity conducted through a ubiquitous network to which consumers are constantly connected using their personal devices. Mobile banner ads have a usual CTR of .23%.
With the exponential rise in the smartphone users across the globe, and people spending an average of 30 hours and 15 minutes on their phones mobile marketing is the way forward.
BlackBerry was one of the first generation smart phones to have made its way into people's hand. The Canadian company that started off as a market leader in smart telephony may have lost its sheen but it is still as important.  
iOS When Steve Jobs gave the world the first generation iPhone, he knew he was changing the game forever. From then till iPhone 6 released last, each smartphone coming from Apple is considered the gospel of smart telephony. The same frenzy continues for it mobile tablets. In 2013, Apple has sold about 800 MN iOS devices across the world. Mostly upwardly mobile, with a fine taste of things, apps from iTunes give ample play way to marketers.
Android rules the roost when it comes to mobile platforms. With Android enabled devices leading the smartphone race by dominating 80% of the market and 1.6 BN units around the globe, Google is the preferred platform of search for all mobile users
Publishers – Online publishers are people or a group who publish content, from the smallest blogger to the largest entertainment, news, e-commerce and information sites, on the online space. Publishers provide a platform to advertisers to showcase their ads.
Google Display is the largest player in the pool of publishers.  Almost everyone wants to place ads on Google and making it a winning proposition is Google Display. A group of a million websites, videos and apps where ads can appear, this consortium lets brands and companies choose from a range of target websites to place their ads in.
In the next part of the series, we will look at Automation and Analytics & Intelligence closely and go over the elements that go into the Periodic Table of Digital Marketing.