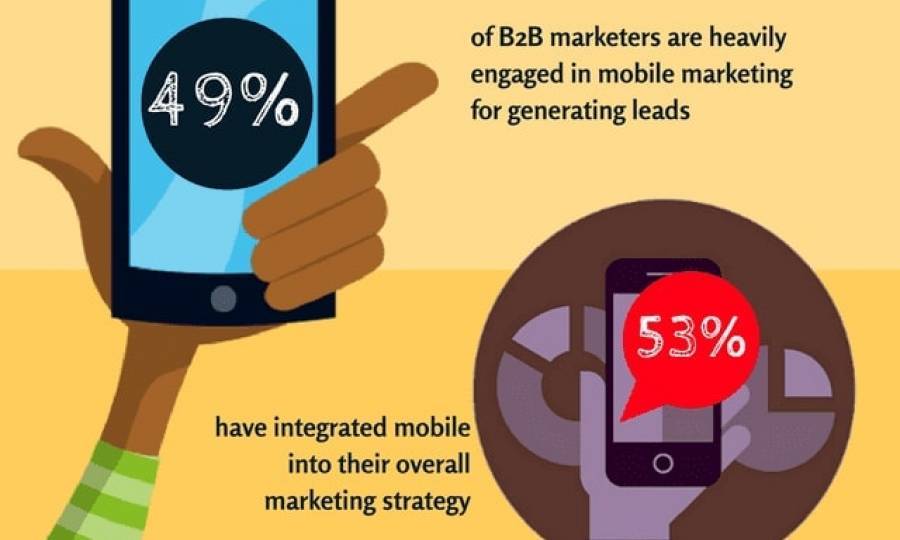 Typically, when marketers think of B2B buyers, they miss the fact that all professionals are also consumers and hence use their mobile phones just as anybody else. And just as they go into their personal email, for example, to check in with friends and family, the same "habits" are moving into the workplace. And increasingly, professionals have to use their devices for work-related purposes more often. It is no longer an option. Mobile search, mobile ads, and such have become the first touch that a professional has with a company.
Mobile Facts:
There are 3.65 billion unique global mobile users. Of these, 1.91 billion of have smartphones. By 2020 perhaps 5 billion people on this earth will have a smartphone. (Source: Andreessen Horowitz)

The US has one of the most developed smartphone markets globally. 77% of the total mobile installed base owned a smartphone in June 2015

Social and Search are reaching mobile tipping points: (Source: LinkedIn, Google. eMarketer)
52% of Facebook's 1.6bn monthly active users use it only on mobile

50% of Google searches in 10countries are mobile

Nine in 10 US Twitter users will access it via mobile in 2016

55% of all traffic to Linked is mobile
62% of digital media time spent is on mobile devices (Source: Comscore)

Mobile ad spend will top $65 billion in the US by 2019. (Source: eMarketer)
Despite this mobile shift, desktops and laptops remain the preferred devices to access business content by B2B executives worldwide. Almost 70% of B2B executives accessing business-related content preferred desktop/laptop over mobile devices. (Source: EIU, 2015)
And from a marketers' perspective, only 1 out of 10 B2B marketers recently surveyed worldwide rated their company's mobile marketing initiatives as "very effective". (Source: Regalix)
So why should B2B marketers look at mobile more seriously?
When it comes to the B2B customer journey, mobile is now playing a big role in the awareness stage, aiding the research phase in the B2B buyer's journey.  Much as B2C marketers have been using mobile to connect with customers throughout the customer journey, B2B marketers should also be providing mobile optimized experiences across all touch points, including apps, websites, landing pages, email and social media.

There are significant opportunities to use mobile data to:

Improve audience insights and activate those audiences across different channels.

Inform content and product development.

Enable the sales force to locate, profile and sell effectively to prospects. B2B marketers often find themselves tasked with creating tools for sales to use in the field. Mobile devices present an opportunity to create collateral that goes beyond standard printouts and case studies and proves far more portable than the average laptop.

B2B marketers can use iBeacons to send tightly targeted messages to customers' mobile devices right at the moment when it's most relevant and useful. For instance, they can use iBeacons to enhance customer experience during events and tradeshows.

Once a sale is closed, B2B marketers can run loyalty programs to maximize revenues and to cut costs in areas such as customer service and call center volume. Loyalty programs, special offers to mobile users and cross-channel engagement activities that integrate mobile are not only effective, but marketers who have integrated mobile (68% in 2015 vs. 49% in 2014) report all other marketing technologies and marketing channels as more effective.
Issues B2B marketers face with respect to mobile
Lack of clearly defined mobile strategy and mastery of underlying technology
Complexity of integrating technologies

Cross-device data continues to pose challenges
Today, there is a deluge of data (big data) and marketers/advertisers are trying to master its complexity. Marketers are using more customer data than they have ever been able to use before to inform their digital media buying. Programmatic advertising helps automate the decision-making process of media buying by targeting specific audiences and demographics. Marketers are using technology like (Data Management Platforms) DMPs to ingest, process, and deploy valuable audience segmentations that boost the effectiveness of their digital media buys across channels like display, video, and social. However, there is a problem when it comes to mobile. Programmatic buying depends on cookies and third-party cookies are not valid or accepted across most mobile channels. This makes identification of users across multiple devices including desktop, smartphones and t, blets to provide a cross-channel experience very difficult.

B2B marketers lack mobile personalization strategies, intuitive navigation, and mobile-specific content, while many B2Cs have already mastered these areas.  B2B marketers need to optimize content for mobile. For example, an eBook may work well on the website, but not on the mobile. Converting the eBook content into a video will see better results.

Consumers have higher expectations of mobile and are frustrated with experiences that do not answer their contextual needs or are not mobile-optimized. Mobile-ad blocking uptake and the increasing readiness to pay only for what will really be viewed means that consumers have more control over their brand exposure than ever.
Finally,  there is the issue of inadequate budget or resources
Mobile Trends for 2016 (Source: eMarketer)
Mobile's workplace role will continue to grow.

More B2B marketing dollars will flow to mobile.

Adaptive content will provide more flexibility across the buyer journey.

Mobile will become more data-driven.

B2B marketers are moving to programmatic ad buying to support data-driven marketing. 54% of US B2B marketers already buy advertising programmatically and 40% plan to dedicate 26% to 50% of media budget to programmatic in 2016. (Source: Econsultancy) With Mobile DMPs being launched, which address the "cookie problem" of traditional DMPs and marketers can harness and analyze the massive amount of customer data generated by mobile devices—including intent, geolocation, and purchase behavior—to better target ads across multiple mobile devices and platforms, from in-app ads on smartphones to mobile web ads and tablet-specific campaigns.

There is a rising trend of connected objects that have started to affect the design of smartphone hardware and how it connects to things nearby beyond radio technologies. For example, LG's core innovation comes from the modular design of its new G5 flagship smartphone, which enables you to easily add modules by swapping in components such as a camera grip or a Bang & Olufsen sound system. Sony launched the Xperia Ear bud, putting an artificial assistant and voice command capabilities in a consumer's ear to provide location and time-based prompts about the weather, diary appointments, social media posts, missed calls, and the news.  More and more marketers will begin to use mobile to unlock IoT consumer experiences.

There is significant demand for web push notification technologies enabling marketers to engage in real-time via the mobile web but also on laptops, and mobile attribution technologies. (Last two bullets source: Forrester)
Implications
B2B marketers need to build unique mobile experiences geared toward enabling sales, enhancing offline events, and creating differentiating value-adds for customers. Those who can provide outstanding customer experience using mobile stands to gain customer loyalty.

Mobile allows marketers to fuel contextual marketing with location data. The use case here is not just to target consumers via an immediate channel but also to use location to inform a user's profile over time. Combining location data with other insights will power better marketing beyond mobile by providing deeper customer understanding, unlocking audience targeting, enabling predictive marketing, and solving the attribution challenge.

Mobile is redefining the marketing vendor landscape, so marketers should challenge their existing agency or mobile marketing partner and ask for their mobile vision and road map
Questions for the audience (Survey response source: Regalix survey; numbers provided as reference points)
What percentage of your website traffic comes from mobile devices?
What percentage of revenue comes from mobile?

For 72% of organizations, revenue generated through mobile is below 10%
What percentage of your marketing budget is allocated to mobile?

73% of organizations invest less than 10% of their overall marketing budget in mobile marketing

Do you have a separate mobile marketing strategy?

Do you have a person responsible for mobile initiatives?

How do you measure the effectiveness of your mobile marketing programs?

73% of marketers recently surveyed said they were unable to measure

Do you have a content strategy for mobile?

What percentage of your campaigns are integrated with mobile?

64 % of respondents in the Regalix survey said their mobile marketing campaigns are integrated with their other marketing programs. In a Salesforce survey (2015), only 53 % of B2B marketers said their campaigns are integrated with mobile.
Case Study: Generali France Supports Financial Advisors With Innovative Mobile B2B App
Generali France Chose To Enter The Mobile Space With An iPhone App For Advisors
Generali considered many options for mobile but saw three advantages to B2B for advisors: 1) It supports the firm's most valuable revenue source; 2) the advisor base is easier to target, and 3) the cost-benefit ratio was higher for a B2B mobile effort. The high-income, tech-savvy nature of the target market made iPhone seem like "the best bet."
The Generali App Offers Quick Access To Client Account Information
The app provides advisors with real-time information on positions, account values, and details on holdings for all its clients' accounts. The app also offers graphical illustrations of clients' holdings and history. The iPhone's touchscreen enables advisors to manipulate and adjust those graphics.
About 10% Of The Advisors Served By Generali Use The App At Least Weekly
Nine months after launch, one in 10 advisors served by Generali France use the iPhone app at least weekly - demonstrating the latent demand among independent advisors for a mobile B2B offering. Anecdotal feedback from advisors has been overwhelmingly positive.
Sources:
Regalix; STATE OF B2B MOBILE MARKETING 2015 / 05

eMarketer; 6 B2B Mobile Marketing Trends for 2016