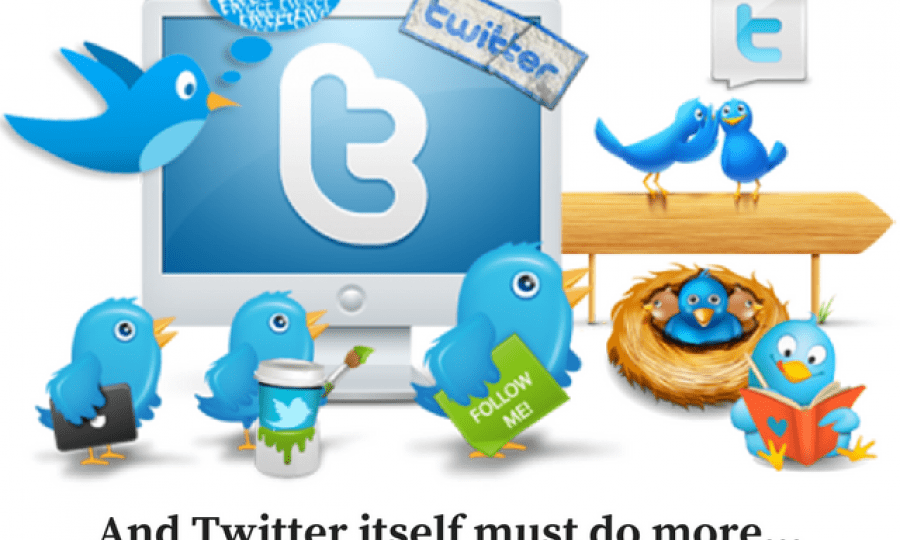 There was a serious belief that Twitter was more than just another social network. At its launch, Twitter did make a difference to immediate communication- a stream of those hundred-and-forty-character tweets was how a lot of users found the most crucial, critical, and thought-provoking stories of the moment and gradually became quite popular amongst business and political landscapes. However, it seems that the social site has had a hard luck to reach to the definite mass audience.
Almost one billion+ users have tried Twitter and not stuck around. With most companies now on Twitter, many say the social network isn't yet delivering business value. Their satisfaction with Twitter remains low- placing it well below the already established social platforms. Despite a strong Q4 earnings of $710 Million (48% YoY growth), the market is not happy.
Whether this is a temporary seasonal phenomenon or not, only the time will tell but this does raise a few questions on the traction for Twitter (as compared to its rivals) and if this continues to grow along with a seemingly endless negative press cycle, Twitter might become irrelevant.
Competitive Benchmarking
(Twitter stacked against its closest rival- Facebook)
Asking a marketer to choose between Facebook and Twitter is like asking to choose between Android and iOS. One cannot get an affirmative answer as it is not about which social networking site is better. It's about which site should marketers put their effort towards and which best suits your marketing objectives.
In terms of Users:
New user growth has stalled- Today Facebook reports over 1.5 billion monthly active users, whereas the user base for Twitter has remained stagnant at best, with 320 Million monthly actives in Q4 2015

Twitter's audience is smaller than marketer's think- Twitter reports that it has 320 million monthly active users but the number of people most marketers can target on the site is actually much lower (For instance, just over 50 million Twitter users are based in the US)
Changes to the product makes it hard to follow conversations or narratives
In terms of- Advertising Revenues:
(USD MN- FY 2015)
Clearly, Twitter's advertising revenues are nowhere when compared to Facebook's. There are a few implications to this:
Facebook has a much larger number of ad engagements – on owned platform as well as on 3rd party websites including latest channels as auto-play video or click to play videos and traditional banner ads

Even after spending more percent of revenue in R&D and marketing & sales (36.4%), Twitter is struggling to see returns on its investments and running into losses
YOY Growth and Income Loss:
(USD MN- FY 2015)
Stock Price and Market Cap:
(USD MN- FY 2015)
Investors', Marketers and Stock Market confidence in the management team has diminished due to which Twitter has been unable to convince investors of its potential upside

Twitter is facing a massive brain drain and having lost some of its best folks to competition this year, preventing the firm from agreeing upon a consistent vision (In October 2015, Jack Dorsey, one of the founders of the social networking platform, stepped into the shoes of Dick Costolo, who left the company as the company's CEO)

On February 5, Twitter's stock price fell to a record low and its market capitalization declined to USD 9.5 billion, almost a third of what it was a year ago.
If we're going solely based on numbers, Facebook, without doubt, has an upper hand on Twitter but there are plenty of other factors to consider. What Twitter lacks, it makes up for in other areas that are very important for businesses.
49% of monthly Twitter users follow brands or companies, compared to the average of 16% for other networks which help companies promote their existing Twitter activities directly to the right audience (which is not the case on Facebook). Their recent innovation even allows marketers to target audiences based on the TV shows they're watching.
The Upper Hand- where Twitter Excels
(Twitter stacked against its closest rival- Facebook)
Right/ More Focused Targeted Audience:
For companies looking to get started with social media marketing and despite the popular notion that everyone is on Facebook, the truth is that your target demographic may actually be spending more time on Twitter.

Facebook's audience has been sliding away from the younger generation of millennials and toward the older demographic of 50-plus years old.

A majority of Twitter users are under 40 years old and, given the speed that Twitter moves at and a large amount of content that gets passed through, that's understandable. The younger generation likes to receive information in bite sized pieces and consumes it quickly. Whereas older users tend to prefer the more static nature of Facebook.

Twitter is primarily used by people who live in cities instead of more rural areas. Depending on what industry your company is in, this could impact your decision to put your focus toward Facebook or Twitter.
(For instance, a new IOT, SAAS, Digital, Automation startup would probably do very well on Twitter, but a company in the agricultural industry might not see the same level of success)
Engagement:
No doubt, Facebook has a longer lifespan than a Tweet but since Tweets get wiped from the stream quickly, brands are practically forced to Tweet multiple times throughout the day to avoid getting lost in the clutter.
Larger companies are surely enjoying this.
Twitter creates more conversation about your brand and therefore puts it closer to being top of mind. This is because, at its heart, Twitter is built for sharing, and people share a lot of brands. In fact, in 2009, Twitter generated fully 11% of all 256 billion "influence impressions" — the posts about products and services in social networks.

Twitter is open and public. As a result, it has become a rich source of market intelligence for most major listening platforms, like Radian6 and Sysomos. Many marketers are now using those listening platforms to collect social data to inform their business decisions.
Aid brands in crisis- Twitter's influential public conversation is impossible to ignore:
Twitter is not the largest social network, but its users are extremely active. Twitter data is a gnarly hodgepodge of opinions, sentiments, and serendipity from more than 320 million monthly active users who send 500+ million tweets per day

Public relations (PR) professionals have traditionally activated many media channels while managing a crisis, and Twitter has become central to that tool kit
Functionality:
Facebook and Twitter serve two different purposes. According to a Forrester Study (2014), for every one million Twitter followers there were 300 interactions and for every one million Facebook followers, there were 700 interactions.

As compared to Facebook, the amount of content Twitter moves with is very quick and in a matter of seconds your stream can fill up with new Tweets. This has forced marketers to adopt creative ways of communication. Same goes for videos where short clips work best on Twitter and lengthy ones on Facebook.
Campaign ROI:
Both the platform gives a wealth of information in tracking ROI and since Facebook's platform is the leader in social media advertising, the Twitter Ads feature is still growing and shaping. Some serious creative thinking has been done in the past to make it easier for Twitter users to reach your audience and get them to take action.
Voice of Customer:
Twitter is open and public. As a result, it has become a rich source of market intelligence for most major listening platforms, like Radian6 and Sysomos. Many marketers are now using those listening platforms to collect social data to inform their business decisions.

Despite many rights, marketers believe that the social network isn't yet delivering business value.  Although many marketers have jumped on board, they are yet to see Twitter as a strategic channel. Almost no interactive marketers see it as their best owned media option for reach or branding- primarily due to Twitter's unorthodox technology that doesn't fit neatly into the current marketing ecosystem.
So what ails Twitter and what needs to be done to bring back the users to its platform
Bolder and faster- Twitter must expand its offerings and improve its measurement:
Twitter has a high churn rate – as high as 25% - which results in the platform being less sticky compared to other social platforms. Time has gone and Twitter cannot afford do build take an incremental approach to product development and ROI measurement. It's time for undertaking some huge risks and launch materially new stuff early and often which would eventually attract more ad engagements (personal or commercial/ business) and thus leading to higher revenues

And, to entice more marketers and secure a larger share of their budgets, it needs to better prove the value of its offerings

Twitter cannot afford do build take an incremental approach to product development. It should in fact, needs to take huge risks, deeply question its key assumptions and launch materially new stuff early and often

Introduce standalone alone "channel" apps as of now, Twitter does not offer special channels arranged by topic, location and popularity

Introduce "live" feature and "save" button which make it easier to follow live events through separate
Referral marketing by building relationships- Twitter can then become the go-to social platform:
If we observe closely, Facebook is focused more on selling ads than on helping companies connect with their existing audiences. So if Twitter can create genuine connections between companies and their customers, it stands to benefit from the enormous market opportunity that Facebook has left behind.

This key will activate their existing follower base organically. By proving the marketing value of the platform will encourage marketers to put more resources into both paid and organic Twitter programs
Focus on International markets:
About 80% of Twitter users are outside of the US therefore any new feature for its product or advertising should be released across the board and not limited to US
Create and initiate mass education programs:
Twitter is difficult to understand and takes a while getting used to whereas, an average person gets easily use to Facebook by creating a profile, adding his F/N/ R's, uploading a few pictures, and liking updates. More than half of Twitter users (55%) use something other than Twitter.

Twitter needs to create a program, partner with institutions and educate users on how they can use Twitter to better their lives, grow their businesses or connect with top influencers in their domain. This needs to be a priority and done at a mass scale
Increase up the anti-spamming efforts:
Like any other popular channel, Twitter too is a target for spammers, and the earlier twitter plugs the gaps and loopholes in its products, the better it is. It's very frustrating if you are tricked into following a spammer and then your timeline is flooded. Like a character limit, a tweet limit will be useful.

The tightening of spamming efforts will improve Credibility too since the information provided will be verified, trust worthy and from reliable sources.
Key acquisitions can be the key of the future to improve services and add new users
Twitter should constantly try to build its strength and make differentiation in its products and services with various strategic initiatives, including acquisitions. In future, there will be less time to innovate and the key will lie in acquisitions and mergers.
In the end, most brands end up using a combination of both Twitter and Facebook because they work very well together. It's not a race against time or a rival company or who gets the maximum users, it's a race of being relevance and a clear winner will be the one who adapts, adopts, change and make new avenues for being germane.  Tough but for Twitter an unavoidable task.
(Since this post was written news has surfaced that Twitter is in the market looking for a suitor to acquire it)