Apurva
BEST-SELLING AUTHOR & ANGEL INVESTOR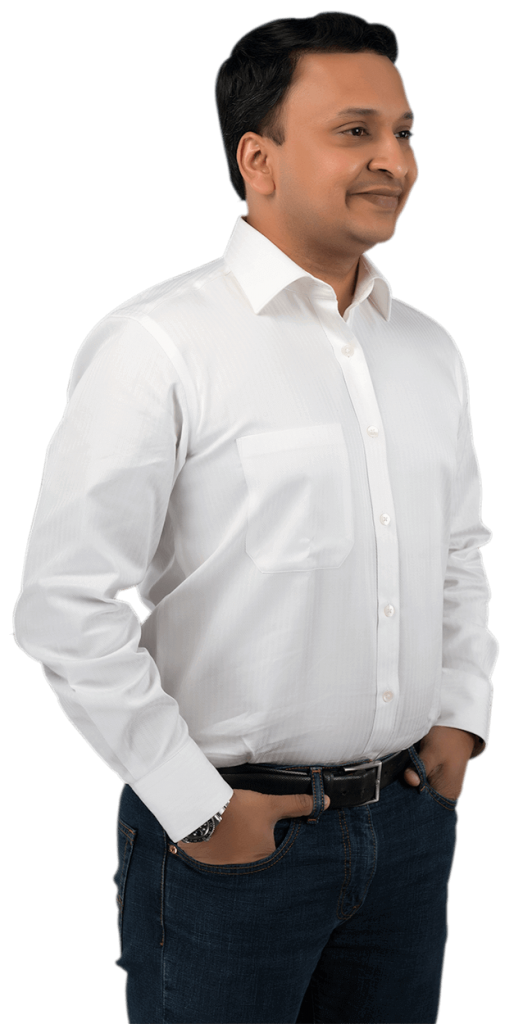 Apurva Chamaria is currently the Head of Partnership Solutions, Startups and Venture Capital at Google India. Prior to joining Google he was the SVP & Chief of Staff to CEO & MD at Tech Mahindra where he was integral in transforming the company performance which resulted in the share price going up from Rs 700 to Rs 1600 within a span of 12 months. Before Tech Mahindra, Apurva Chamaria was the Chief Revenue Officer of RateGain, one of world's leading SaaS company's serving over 12,000+ customers in the travel and hospitality industry across 100+ Countries where he and his team successfully grew the company from 20 Mn to 63 Mn within a span of 34 months. RateGain IPOed in India in Dec 2021.
Prior to joining RateGain, Apurva was the Global Head of Marketing for HCL Technologies, a 10 Bn US$ global IT major. Under his leadership HCL became the fastest growing brand in the Interbrand top Indian brands list for 2 years (No. 17 in '16) and was ranked at No.378 and valued at 4.4 Bn US$ in the Brand Finance Global 500 '17 rankings. Between '13-'17, HCL campaigns won 110 prestigious global and regional marketing awards. In his 12 years at HCL, he performed various leadership roles including being CEO's Vineet Nayar's Chief of Staff and Sales Director at HCL America playing an integral role in scaling the company from 700 Mn to 8 Bn US$.
In '16, he was awarded the "Marketer of the Year" by World Leadership Forum, "Digital Marketer of the Year" by IAMAI and "B2B Marketer of the Year" by Paul Writer. He was featured in Pluralsight Digi100 List Powered by Paul Writer, the recognition for the top 100 Digital Marketers in India. He was honoured by Campaign Asia magazine by being inducted in their 40 under 40 List.
Prior to HCL, he was the youngest country manager at Ranbaxy Laboratories (now Sun Pharmaceuticals) leading the business in Australia & NZ. In various parts of his career he's worked in Asia-Pacific, India, Africa, U.K. and North America.
Top 10 Angel Investor: Recognized by Economic Times as amongst the top 10 angel investors in India in '18. Investor at large helping exceptional founders scale companies. Some of my investee companies include Stage, Inc. 42, Josh Talks, Funlockar (Media-Tech), Sponsify me, CubeRoot (Ad-tech), Chq Book (Fin-Tech), Innov8 (Co-Working), Simulanis (AR/MR/ VR), Lucideus /SaFE (Cyber-Security), Skill Acquire (Ed-Tech), Dukaan (SMB digitalization), ASQI (blockchain) etc. He's also a charter member of TiE, New Delhi. Harvard Alumni Entrepreneurs (HAE) made him "Entrepreneur in Residence" for 2021-22.
Best-Selling Author & Columnist: He's a columnist for the Pitch and Digital Market Asia magazines. His book "You are the key – unlocking doors through Social Selling" (Bloomsbury) hit # 2 in the Amazon India Best-Sellers list* within 20 days of being launched in Jan 2016 and is currently a best-seller on the WH Smith best-seller list as #1. It was also recognized by Prime-minister Narendra Modi for contributing to Digital India. His second book "Master Growth Hacking" (Random House Penguin) features in the trenches stories of top internet companies in India and was released in August 2018.
Thought-Leader: He's regarded as a thought-leader on "digital transformation" and is regularly quoted in publications. He's a sought after speaker and has key-noted at TED x, IAMAI MarCon, DMAI GMAW, Oracle Cloud World, LinkedIn Tech Connect, Microsoft Ignite, Paul Writer GIIMS, Hindustan Times Top 50 Brands, Exchange for Media Pitch Top 50 Brands etc. and teaches a full credit digital marketing course at the Indian Institute of Mass Communication (IIMC) & Great Lakes Institute of Management. He's an academic advisory board member at the 2,000 students strong IMS Group of Institutions. He's also been a member of the advisory board at Mudra Institute of Communications (MICA), Ahmedabad. He was the chair-person of the DMAI Annual Marketing Gala Conference 2017 which featured 50 CMO speakers and 350+ attendees. He was made an Honorary Fellow of the All India Management Association (AIMA) in 2021 for his services to the field of management.
Social Worker: He's the President of Rotary Club of Delhi MidWest for focusing on programs that are solving rural sanitation, water and education problems. He recently co-founded the NGO, ShowCause.org to lead change in accessible healthcare for all in India.
He completed his schooling from the prestigious Mayo College, Ajmer. He holds a double master's in business management (from IMI) and advertising (from IIMC, JNU). He's an alumnus of the Harvard Business School, Boston and pursuing his PhD. In digital engineering from Indian Institute of Technology, Delhi.